There are very few women out there who can say they've had as challenging and unique a life as Sue Aikens. Thanks to her hit National Geographic series 'Life Below Zero,' she has become a pretty household name and even those who aren't fans of the show know her name due to her interesting life adventurous exploits. She is currently engaged to his longtime boyfriend, Michael G Heinrich.
So, Sue Aikens must certainly hold an unbelievably massive net worth, right?
What We Know About Sue Aikens's Net Worth & Career.
Like we already said, most of you may have come to know of Sue Aikens through her leading role in 'Life Below Zero' alongside fellow Alaskans like Chip Hailstone and Andy Bassich. The show may not have become as huge as without her and perhaps never even conceptualized without her.
Even before appearing in the long-running series since 2013, Sue Aikens previously caught the show's producers' attention after her involvement in Alaskan documentaries like Sarah Palin's Alaska in 2010 and Flying Wild Alaska from 2011 to 2012.
Aikens is one of Alaska's most famous locals due to being a solo woman trying to survive in Alaska and, secondly, surviving a Revenant style dangerous mauling from a Grizzly Bear in 2007.
The production crew that knew her from her previous TV experiences offered her the series 'Life Below Zero,' and she took it happily. Almost all sites that we went to overcame the same conclusion that Sue Aikens is worth $500,000.
We are not saying $500,000 net worth is a low amount, but we strongly think that Sue Aikens is worth a lot more than that. So, let us explore her other sources of income to find her true net worth and salary, once and for all.
Sue Aikens's Salary from Her Camp.
When deciding the net worth and salary of cast members of a reality documentary series like 'Life Below Zero,' even credible sources often overlook a simple mistake. They don't check the celebrity's salary from her daily livelihood. In Sue Aikens's case, it is her Kavik River Camp, which she has run for over 30 years successfully.
Kavik River Camp sits at a suitable location just a few miles out of the Arctic National Wildlife Refuge. Every year, swarms of people visit Aikens's camp, which facilitates camping and accommodations for the guests.
After that, the guests can choose from several adventurous activities like hiking, exploring, hunting, and fishing in the Alaskan wilderness under Sue's watchful eyes. The campsite is a popular destination for hunters and scientists as well as normal families.
It will be an understatement to say that Sue runs a successful business. It is a pretty narrow market that Sue runs, made even more promising by Sue Aikens celebrity status, which alone attracts the majority of visitors.
Tourism is the biggest business in Alaska, and Sue Aikens sits in the middle of it. On a good summer, Sue Aikens's salary from Kavik River Camp alone should earn her a large 5-figure sums salary.
Earnings from Kavik River Camp Merchandise.
As long as we talk about Kavik River Camp, we cannot forget how Sue has her own Kavik River Camp merchandise for sale. Yes, visitors can select and buy through a number of products from her gift store, but you can also buy them online.
Unfortunately, a lot of her products are sold out, especially the Kavik River Camp mugs. However, you still have a little time to buy the Camp logo t-shirts worth $25 and hoodies worth $40.
Also, Her New Spin-Off Series in Underway.
We can understand how many sites will only cite 'Life Below Zero' as her only income source since she probably gets the highest salary from the series, reportedly $50,000 a year.
It truly is an impressive figure, but even so, we mustn't forget her other sources, especially since Life Below Zero is finally getting a spin-off series.
'Life Below Zero: Next Generation' will feature younger and amateur settlers in Alaska who more or less were influenced by the main show to settle there.
It will be interesting to see a change of pace from our regular seasoned veterans to struggling younguns trying to achieve what the main show's cast already has.
Now, Sue Aikens has yet to declare whether or not she is a part of the new show's cast, but there are certainly no hints or Easter eggs that prompt us to believe her involvement.
Nevertheless, Aikens is active in promoting the spin-off series in her socials. While the new series has no credit of Aikens whatsoever, it is not unlikely to expect Sue Aikens to make a short appearance.
May one of the new cast's struggling youngsters will come to her for help and guidance, or perhaps Sue will voluntarily help her juniors.
So far, only three episodes have come out, which aren't enough for us to tell for sure. You will have to watch the rest yourself to not miss out on the event should it happen. Who knows? Maybe Sue may charge even more salary than her regular amount for a celebrity guest appearance.
Sue Aikens' Net Worth as Per New Information.
Now that we have put all of Sue Aikens' income sources before you, aren't you even a little suspicious of her initial assessment of $500,000 net worth?
It is clear that Sue Aikens' salary per year through all her diverse ventures, which are all somewhat profitable, must surely have a value of millions. Examining her entire career, we estimate Sue Aikens' net worth is approximately $2.3 million.
While estimating this net worth, we were sure to pay attention to Sue Aikens's expenditure. Sue lives almost a completely off-grid lifestyle in Alaska. Like most homesteaders here, she farms, hunts, gathers or constructs almost everything necessary for sustenance from the area's resources. So, her expenditure will be at its bare minimum.
We can't think of anything she has to spend money on other than her lease for the land, personal travel for visiting family or vacations, accommodations for her guests if she can't manage them herself, and finally, a Wi-Fi facility for her camp.
Sue Aikens Leaving Kavik River Camp.
Many of you may have heard talks about Sue Aikens leaving her residence and business site at Kavik River Camp for more than 30 years to settle elsewhere.
You may have also heard rumors that Sue Aiken is thus, leaving the show. Do you think we are so immoral that we will ignore such topics after talking about such great deals about Sue Aikens' net worth and salary from the series and Kavik River Camp?
Sue Aikens has not left her beloved Kavik River Camp and does not plan to anytime sooner. However, that decision may not be hers to take under precarious situations.
You see, the government owns all lands in Alaska unless you are from a native tribe like the Eskimos or married to a person of native lineage. So, Sue Aikens does not own any of her lands and is simply using it on a lease.
A Backup New Cabin In Case She has to Move.
For now, it is all well for her until she can pay the lease. However, the government can easily force her to vacate if they require the land for other reasons.
Alaska is also attracting more and small business owners. As we know, Sue likes to prepare for the worst, and why should that be any different. So, she has bought another property, an abandoned cabin which she won through bidding, having never even seen the property properly.
"I'm going to start working on my backup plan. Doesn't mean I am giving up on this, but I need to start planning for the future." She said, "I'm not moving in here permanently tomorrow, but I see it as a good addition to my lifestyle. There's a lot of potentials. It's scary and I am going to make mistakes, and I might change my mind, but unless you go through the door, you don't know what's on the other side."
That being said, the government is not the only thing that may force her to move. Sue Aikens is a 57-year-old lady as of 2020. Most of our grandmas are around the same ages that barely go out. Now, Sue may be one tough lady, but old age will sooner or later catch up to her. So, the cabin is a backup plan for that as well.
Sue Aikens Was Previously Married Thrice.
Sue Aikens may be a one-woman army for as long we know but believe it or not, she wasn't always like that. Yes, Sue Aikens was married three times in her life, but none of the three did last, and most of them were under unfortunate conditions. Her first marriage met a tragic end with the untimely death of her husband due to brain cancer.
Her second marriage was to a British husband by Eddie James on June 13 of 1987. The two were an understanding and compatible couple but came from the opposite spectrum of worlds.
By then, Aiken was already a full-pledge Alaskan, but her husband, Eddie James, could understandably not adapt to the off-grid lifestyle. They did try their best by momentarily living in both worlds, but Eddie found Alaska unbearable, as did Sue find his life in Oregon boring.
Sue recounts one of those moments the two were a part of when she was living with him in Oregon;
"We ended up giggling one night. He looked at me and said, "You know, I'm more John Wayne. You're more Grizzly Adams. I love you to death, but we're going to choke each other."
The two were married for 17 years before getting divorced in 2004 but not before having two wonderful children together. Their divorce was mutually consensual, and the two would continue to be best friends until his eventual death in 2009. She still cherished their valuable memories together.
Her third marriage was too short and that she barely even mentions. Thus, we have no information on her most recent marriage and husband.
Sue Aikens is Engaged With Her Husband To-Be Fiance Michael G. Heinrich.
Sue Aikens may still not have given up all hope on a married life yet, though. She is currently engaged with a new man by the name of Michael G. Heinrich. There is not much that we know about her partner, Michael. Still, in his Facebook page, he classifies his profession as "a journeyman electrician at local #3 IBEW", which is a laborer's union.
Sue Aikens has put her relationship as engaged with Michael on Facebook. Look at the picture below.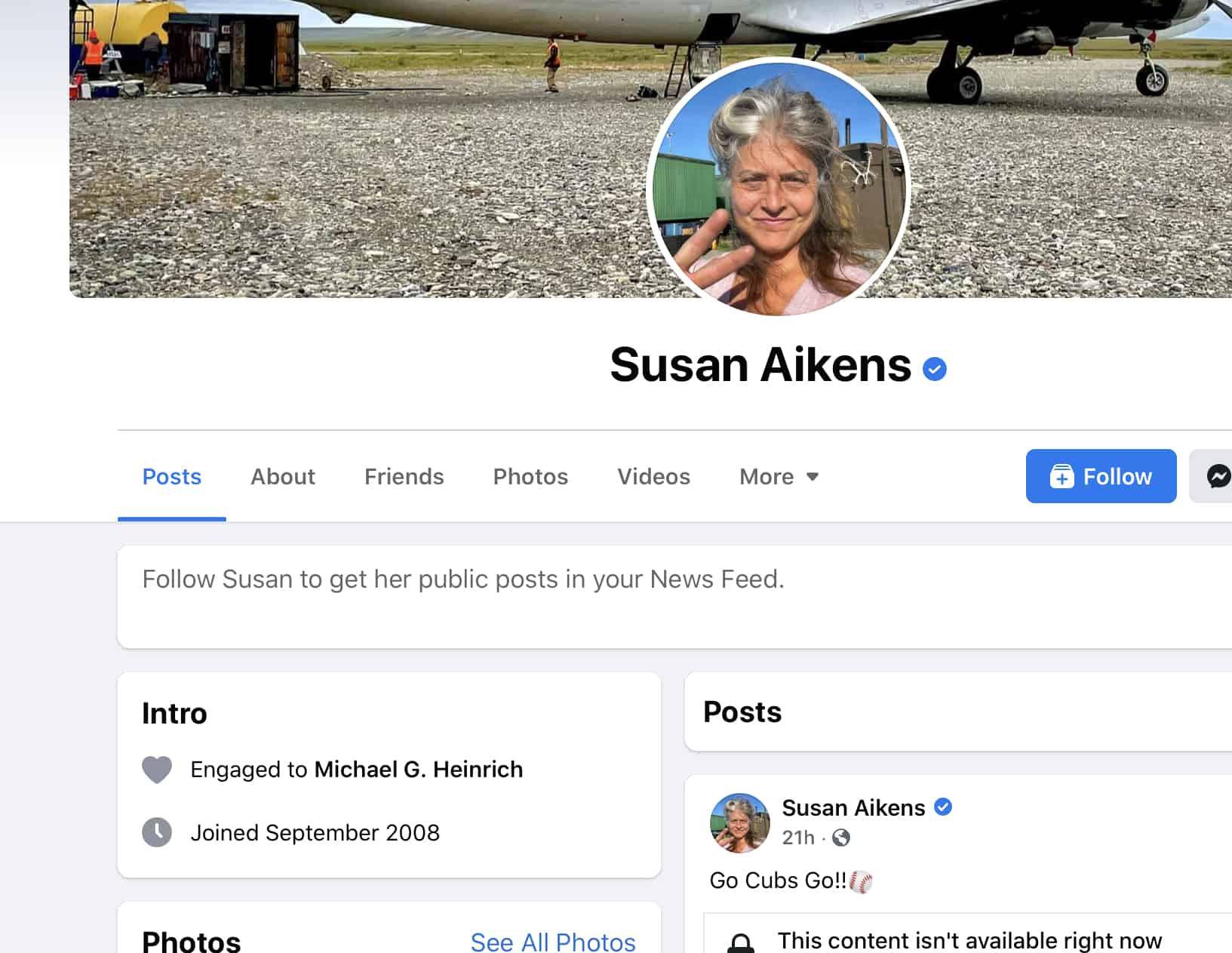 Michael and Sue first became friends over Facebook when he sent her a friend request. It was hard for Sue not to get attracted to the handsome man initially, but he was married with kids back then. However, the two hit it off right from the get-go and became the best of friends.
However, Michael G. Heinrich's marriage also did not work out, and after giving him appropriate time, she asked him if he wanted to be in a relationship, to which he agreed. The two have been dating since late 2017.
Michael is from New York City, New York but does not mind living in Alaska to spend time with his partner, Sue Aikens. Michael is an extremely handsome guy with a great body, which may be why he looks very young.
There is a clear age gap between Sue and her new husband-t0-be, but it seems like Sue Aikens and her new boyfriend, Michael G. Heinrich, are genuinely in love with each other. If she can make this last, then who knows? Maybe she will walk down the aisle again for husband no. 4.
Sue Aikens' Children.
Like we already said, Sue Aikens has two children from her second marriage; a daughter and a son. Her daughter's name is Jennifer Payne, AKA Jenni, born on November 11 in 1984.
Sue Aikens Daughter Jennifer Payne Biography.
Sue Aikens' daughter Jennifer is currently 36 years old and will soon turn 37 years of age. Jenni is a dog-lover who currently runs a small business and doggie baths and grooming by the name of 'Groomer Haz It.'
She has training and certifications in multiple categories necessary for the dog, including specific grooming poodles, which may be her favorite breed of dogs, and a certificate for practicing first aid and CPR on animals. We do not know about her marriage but know that she is also the son's mother.
Her son and Sue Aikens's grandson's name is Nathan, born on December 18, 2001. He, too, is currently 19 years old and will be turning 20 years old this year.
Sue Aikens Son Jesse is Married to his wife Megan and has a Kid together.
Sue Aikens's son's name is Jesse Aikens, who was born on December 16, 1987. It seems like all of Sue Aikens' children and grandchildren have a knack for being born in the ending months of the year, which is why we have to keep clearing up their age. Thus, Jesse Aikens is currently 33 years old and turning 34 by the end of the year.
Jesse Aikens looks like he lived a lot with his father, where life would be much normal and easier. He graduated from the Mt. Hood Community college in Gresham, Oregon.
Sue Aikens' son Jesse currently works and lives in Portland, Oregon, with his family. Yes, Aikens is a family man after marrying Megan Aikens on September 24, 2016.
Jesse and his wife Megan gave birth to their first child, a baby daughter, at the beginning of the year on January 24, 2020. Their daughter's name is Amelia, and she is the second grandchild of Sue Aikens.
Sue Aikens Age, Birthday & Early Life.
We have already revealed to you once above, but no harm in doing it again. Sue Aikens was 58 years old, being born on July 1, 1963. She was born in the Holy Family Hospital in Mount Prospect, Illinois while growing up in Chicago.
Despite her pretty ripe age, she is somehow still able to survive on her own while running a successful business in Alaska. She is also a looker in her late 50s; you should see her when she has to return to the "lower world," as the Alaskans call the rest of the states, to attend awards functions and other events.
From a very young age, Sue Aikens wanted a solace lifestyle, a peculiar dream to have even for a girl during her time as a kid. At 3 years of age, she had the strangest dream of being a lighthouse keeper. It was clear that she was too wise for her age since she could take a taxi to go to preschool alone.
Sue's parents separated in late 1960 for what seems like very severe causes as her mother decided to suddenly leave their father in the middle of the night and take her kids away as far as she could.
At first, they went to another place before finally moving to Alaska in the mid-1970s. It was a difficult move for a young Sue Aikens who came from Chicago's urban streets to living in barren Alaska.
After moving a little North to Fairbanks, her mother also left Sue alone for whatever reason. However, the 57-year-old does not hate or despise her mother's actions and thinks that her mother was dealing with harsh life events prompting her to take those actions.
Instead of worrying, Sue Aikens got to work and began learning more and more skills, tricks, and trades of the Arctic, slowly transforming to the badass she is today.
Sue Aikens Bear Attack.
Sue Aikens, before her TV fame, already had local notoriety for surviving a dangerous bear attack. A grizzly bear attacked Aikens out of nowhere, mauling Sue to near death.
Even the bear thought that Sue had died and, thus, let go of her. What the bear or anyone else for the matter did not see coming was that Sue was somehow able to drag herself back to the camp despite multiple torn muscles, a head injury, and a pulled-out hip.
She not only gave herself first aid but also was able to stitch back some of her wounds. She then grabbed her gun, tracked the bear, and shot it dead. After her revenge was complete, Sue returned to her camp, where she would continue to stay for 10 more days before rescue finally came to take her to the hospital.
Lawsuit after Producers Forced Her into an Accident.
While this daring display of courage and survival could not be caught on camera, another near-death experience did occur for Sue Aikens while filming 'Life below Zero.' The incident took place in 2017, where Sue claims the producers of the show put her life at risk by forcing her to do a stunt of driving her snowmobile into overflow.
After a particularly verbally abusive producer forced her to do the stunt, Aikens met with an accident where she could've possibly hurt herself fatally. Furthermore, Aikens says that after her accident, the filming crew left her more at risk by making the medical rescue team wait for quite a long duration to shoot more scenes for the series instead of prioritizing her safety.
Sue Aikens later filed a lawsuit against the producer, Aaron Mellman, and several other filming crew individuals who were directly responsible for causing her physical and emotional distress.
She also had several other claims of her 2015 clashes with the production crew for using her camp's accommodations for free and how Mellman in the past has forced other decisions on her, which compromises her ingenuity on the show.
Sue Aikens Facts-Table.
| | |
| --- | --- |
| Full Name | Susan Ruth Aikens |
| Birthplace | Holy family Hospital, Mt. Prospect, Illinois |
| Birthdate | July 1, 1963 |
| Age | 58 years old |
| Net Worth | $2.3 million |
| Salary | $50,000 a year from Life Below Zero |
| Marital Status | Single (dating) |
| Husbands | 3 ex-husbands; Only the name of her second husband, Eddie James, is known |
| Boyfriend | Michael G. Heinrich |
| Children | 2; Jennifer Payne and Jesse Aikens |
| Grandchildren | 2; Nathan and Amelia |